Sock Munkee Picks a
Christmas Tree
Hey, welcome back everyone. Today was so exciting!
It wasn't easy. We had to go to two different tree farms to find the perfect tree. Let me tell you, those farms are not little. I had to go all over both of
them until I found it. Then I had to chop it down. It took FOREVER with my tiny little hatchet, but I was determined to do it myself. Mom offered to help, really, but I was adamant. I have to admit, it was kind of exciting to yell, 'Timber!" when I took the last swing. After it fell, I had to drag it out to mom's car and we tied it to the top of the car.
Before we left I couldn't resist a patch of snow I found.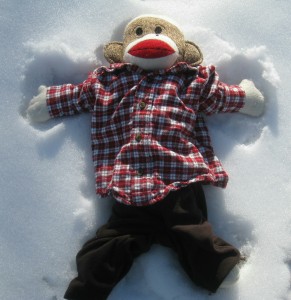 I mean, I was so hot from all that work chopping and dragging. Mom didn't want me to get all wet since I didn't have a coat on, but I just had to do it. I rushed over, fell backward into the snow and made a Sock Munkee snow angel. When was the last time you made a snow angel? We don't always get a lot of snow here, so I had to take advantage of it. What do you think of it?
So, after mom tsked several times, we climbed in the car and headed home. I was worried something would happen to the tree, but mom promised me it would be okay. I was very happy to find that she was right when we pulled in the driveway.
I couldn't wait to get the tree inside and start decorating. Mom popped that balloon fast. Once we got the tree in the stand and watered it, she said we had to let it 'settle' over night. I guess the branches need time to warm up and relax a little after being out in the cold so long. All I know is I had to wait another night to get my Chrismas tree decorated. At this rate, I might not have it ready in time for Santa to put any presents under.
Okay, okay, I know I'm whining. I just love decorating for Christmas.
Do you like decorating for Christmas?
I'll get back to you later.
SMJ