Welcome to the Colorado Dreams and Desires series.
In this series the books will all stand on their own, so you don't have to read them in any special order. They are tied together by the fact that the characters's dreams and deepest desires can only be fulfilled in Colorado. I've given you an excerpt from each if you follow the drop/down menu.
A Daring Proposal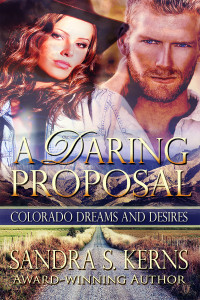 Desperation. Denial. Destiny.
Chaney and Jed haven't seen each other since he left town without a word years ago. Unfortunately, fate steps in and throws them together at her sister's wedding. Immediately, sparks fly between the two, but is it passion waiting to be rekindled or the hate two lovers feel after a bad break-up?
Jed harbors no ill-will toward Chaney. In fact, if he still believed in love, he'd try and win her back. But he doesn't love anyone anymore except his daughter. She's the reason he's even considering moving back to Colorado permanently. He could build a home near family for his young daughter. He knows adding a wife would help his fight in the custody battle, but could he survive another loveless marriage?
Chaney's running out of time when Jed steps in and ruins her last chance to save the ranch. Then his tongue-in-cheek proposal at her sister's wedding pops in her head. It would be a fitting response to her father's last ultimatum to marry the one man he forbid her to see. But can she really endure watching Jed walk out of her life again?
Could they be the answer to each other's prayers? Or will they destroy the love still hidden in their hearts? Is it possible to forget the past and build a future? Only time will tell as the secrets they've kept from each other come back to haunt them.
Get yours today at these fine retailers:
Gathering Clouds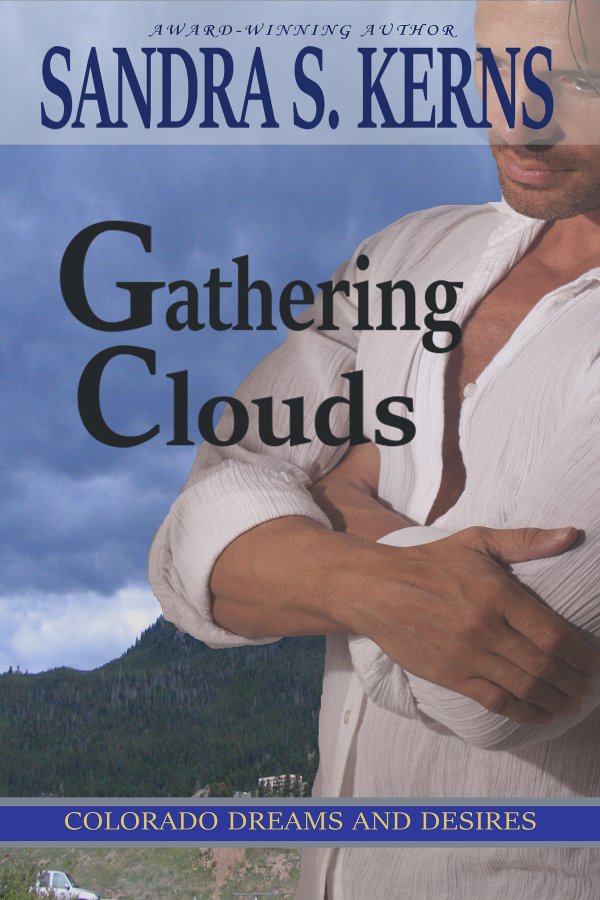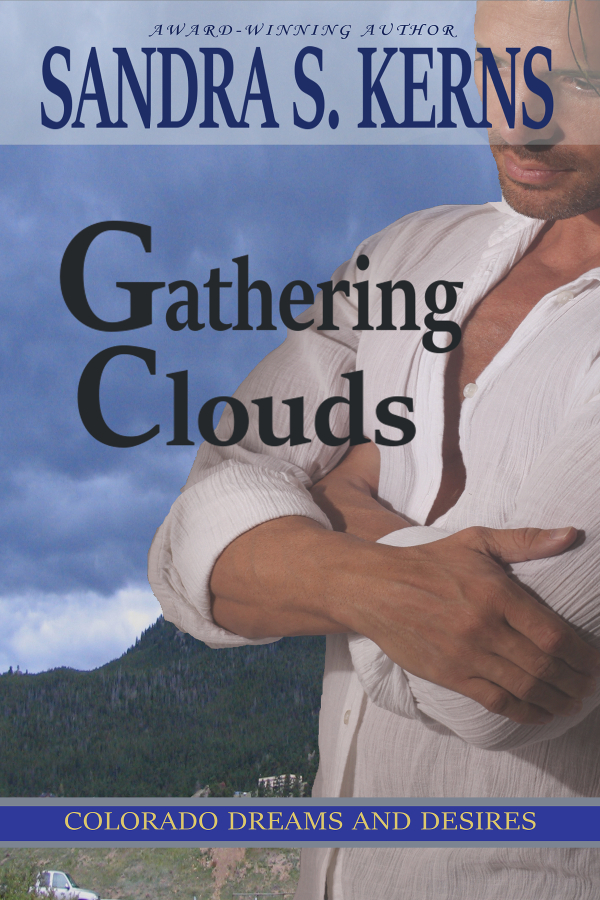 Who has time for desires with all it takes to just keep our heads above water. Such is the case for Gabrielle and Theo. Two people with such different outlooks on life and people it's amazing they even meet. But sometimes our dreams make us do desperate things.
Gabrielle can't let her restaurant close after fifty years of uninterrupted service. She is desperate. Her head chef is walking out and she needs a new one to stay open. If she loses the Silver Lining it would kill her. She needs someone willing to start immediately, but all the talented chefs already have jobs. A friend recommends a man just released from the prison where she works. Word was he planned to return to Colorado. Can she put her dream in the hands of an ex-con?
Theo returned to his hometown in hopes he had been forgotten. His only desire is to get work in a kitchen and live as invisibly as possible. Jobs are hard to come by for an ex-con. When a petite pixie walks into the gym and offers him one, Theo doubts it has anything to do with his culinary skills.  After spending three years in prison for trying to help someone, he has no intention of doing anything that might land him back there. Unfortunately, what he wants and what he gets are usually in direct opposition to one another.
Can Gabrielle trust the Silver Lining to a man who only sees clouds looming on the horizon? Can Theo learn to trust enough to help someone again? Will they both be victims in the twisted games of others?
Available at these and other fine retailers:
Reconstructing Roman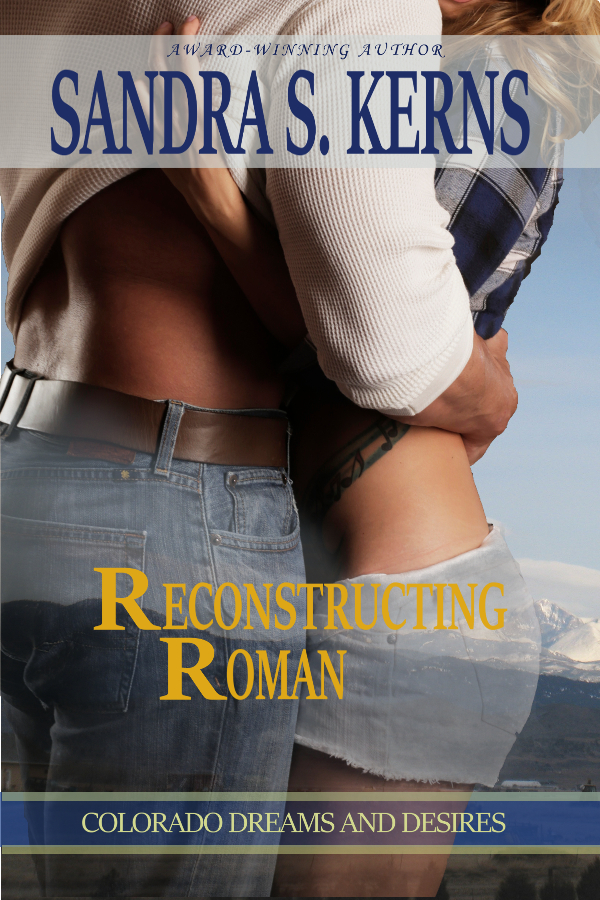 Peace is a gift you sometimes have to walk through fire to receive.
Roman Smirnosky wants nothing more than to work and be left alone. After years of being on his own and building a business, he thinks he's finally found peace. All that changes with a single phone call informing him his brother is in the hospital and his parents are dead, murdered. Returning to the town he left behind sixteen years ago, he soon realizes, helping his brother is the easy part of returning. Someone has moved into the old Beecher place. A female someone. Helping her with repairs could provide a welcome distraction from the nightmarish memories that haunt him since his return. He couldn't be more wrong when accidents and threatening phone calls start to plague her. He's definitely no hero, but walking away from a fight isn't his way either. It doesn't hurt that her determination and strength tempt him to distraction and his quiet, solitary life is about to be thrown into chaos.
Kaia Beecher's inheritance is a mixed blessing. It means the parents she adored are gone and she's heartbroken. However, it also gives her the opportunity to change the direction of her life. Packing the few things she wants from her place in New York and her dog Copernicus, she heads west in search of peace.
Instead, she finds fear, distrust, and threats. Even the handsome man offering her help tells her she should leave. If people hate her family so much, why didn't her father sell the farm? Why is everyone determined to run her off her property?  She's determined to find out. She's also determined to break down the walls Roman has built around his heart and help him live in the present. Will her inquisitive nature and pure stubbornness help her find the answers? Or, will someone take her chance at love away before it can even start?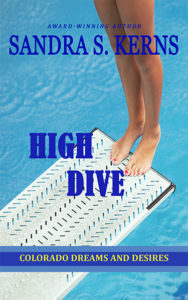 A woman starting over. A man disillusioned. A past that won't let go.
Bobbie Jamison is thrilled to start anew. Once a competitive diver, a near fatal accident turned out to be a blessing. Her demanding parents turned their backs on her when she couldn't perform any longer. Now she's looking forward to living quietly and teaching at a college in Colorado. At least, she was until her mother somehow found out and is harassing her. On top of that, the diver she had a crush on ages ago is also teaching there and one of the female staff isn't happy Bobbie has caught his eye…
Michael Reese wishes people would forget his past Olympic success. He enjoyed diving, but all the hoopla and undesired attention that went with it, not so much. Women care more about his fame than him. Except for the new engineering instructor. She keeps ducking his advances. Unfortunately, she's drawn the attention of someone who considers him her possession…
Can the two find the peace and love they both crave, or will the past push them into the deep end…
High Dive is the standalone fourth book in the exciting Colorado Dreams and Desires series. If you like irresistible chemistry, intriguing plots, and wounded souls finding a way, then you'll love Sandra S. Kerns' heart-wrenching novel.
Buy High Dive and feel the thrill of diving into love today!