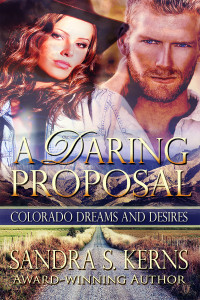 Jed Sampson and Chaney McBride have a troubled past. Fate steps in and throws them together again at her sister's wedding. Chaney needs a husband and Jed needs a wife. Could they be the answer to each other's problems or will new worries cause a wider chasm between them? Can they forget the past and work together or will secrets they keep hidden from their pasts keep them apart? Three steps down the center aisle, in her painfully pink maid-of-honor gown, Chaney's smile faltered. If not for the bride waiting behind her, she would have turned around and marched out the front doors. No, she wouldn't give the surprise best man the satisfaction. She kept walking. She moved her focus to the groom. The fire burning in her eyes should make her soon-to-be brother-in-law burst into flames any minutes. He knew how she felt about Jed. Her sister did too. How badly Jed had hurt her. Okay, maybe they didn't know how badly he hurt her. No one knew that. However, everyone knew she wanted nothing to do with him. Besides, didn't she have enough problems with the ranch, their father's death, and Belle's wedding? Chaney reached the front of the church. She turned to watch her sister walk down the aisle, and all her anger melted away. Belle looked every bit the fairytale bride. The white as high-peak snow antebellum gown and jeweled tiara veil were perfect. The smile on her face brightened as she walked toward the man she loved. An odd mix of joy and jealousy knotted in Chaney's stomach. She wasn't jealous of Belle. Her sister's happiness meant the world to her. The jealousy came from knowing love wasn't in the cards for her. Shaking off the stupid self-pity, she turned as her sister reached the groom's side. Doing so put Jed in her line of vision again. How dare he meet her gaze and smile? The knot in her stomach intensified, but Chaney didn't let the pain show. This day belonged to Belle. Turning her gaze back to her sister, she clenched her jaw and prayed for strength while the bridesmaids whispered and giggled behind her. There was no mistaking what man they were whispering about. Women always fawned over Jed.
Even you.
Her hand strangled the bouquet she held with the unwelcome reminder of her and Jed's past. A quick glare over her shoulder silenced the girls. As she turned back, the preacher asked who gave Belle's hand in marriage. "I do." Chaney's face flushed when the words croaked out of her dry throat. It should be their father giving his favorite daughter away. He hadn't liked Belle's choice of husband. Marrying the son of the man their father had quarreled with as long as she could remember should have been an insult. The only explanation was their father had been too sick to fight about it by the time Steve asked for Belle's hand. They had no doubt waited until after he died to decide on the best man. If Dad had known they were planning to have Jed stand up, there would have been hell to pay. Dad made no bones about his feelings toward the man. He would have forbidden it. The ridiculous thought had her hiding a grin behind a fake cough. Dad had never said no to Belle. To be honest, Chaney couldn't remember ever saying it to her sister either. Even if she had known about Jed's part in the wedding, she wouldn't have this time. When their mother died soon after Belle's birth, Chaney made Belle's happiness her main goal.
At least you've succeeded at one thing.
The reminder of what a shambles the rest of her life was, made her pull her shoulders back, and stand taller. She didn't know the meaning of the word quit. It didn't matter what absurd challenges her father, Belle, or anyone else threw at her. She'd never backed down from a dare in her life, and she wasn't about to start now. With renewed determination, she met Jed's gaze straight on, daring him to look away first. # # # Jed held Chaney's stare across the space between them. Her features remained calm, but her gaze held no warmth. Angry heat, yes. Warmth, no. Not when aimed at him, but every time she looked at Belle, her demeanor softened. When she glanced his way, hard didn't quite define it. It was obvious she hadn't known he was the best man. The hate heating those caramel eyes was proof. Of course, she'd probably been too busy with her precious ranch to ask about details. He knew exactly how important the ranch was to her. God he hated that place.
Get your copy today and ride off for a great adventure:
A Daring Proposal on Amazon
A Daring Proposal on iTunes
A Daring Proposal on Barnes & Noble
A Daring Proposal on Smashwords
A Daring Proposal at AMAZON UK