Sandra S. Kerns creates riveting stories and believable characters with a fresh vibrant voice. So relax with your favorite beverage and get to know Sandra and her gripping romantic suspense novels!
Why not start with her newest series…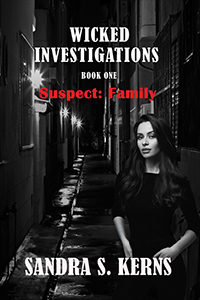 Wicked Investigations – Suspect: Family
and continue with her other 4 series…
These books sometime lean toward psychological thrillers, but find the Colorado clear blue skies bring focus and peace.
Colorado Dreams & Desires Series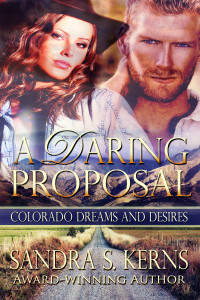 To find their true love or realize their dreams, heroes and heroines find there's nowhere like Colorado.
The Masters Men work together to solve troubles, threats, and other issues for family and friends.
Retired from their day jobs, the Masters Men and others work in Colorado and Florida to solve crimes, mysteries, and other difficulties.
Here's a peek at what makes my newest heroine and hero,
Lorelei and Finn of Wicked Investigations tick.
Wicked Investigations: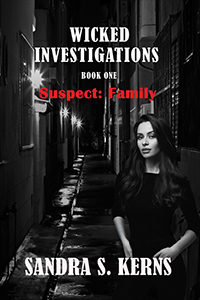 She's tough on the outside.  He's wounded on the inside. When two broken hearts collide, can they follow the clues to true love?
PI Lorelei Cole always works alone. But this time the universe has other plans when a night of simple surveillance takes a deadly turn. Now, she's forced to work with the police. As if the blood on her hands wasn't enough, she's forced into maid of honor duties with her best friend's hunky, frustrating brother…
Ex-marine Finn still longs for the soulmate he lost in Afghanistan. Trying to put his PTSD on hold for his sister's sake, he wishes the sarcastic beauty Lorelei didn't send his pulse through the roof. But when someone points a gun her way, Finn refuses to let another soul die on his watch.
As Finn's heroic actions and Lorelei's 'what you see is what you get' attitude ignite a spark of attraction, he and Lorelei don't realize that they've fallen into the crosshairs of a sinister stalker.
Will the unlikely partners stop a deadly enemy and embrace their deepest desires?
Suspect: Family is the first book in the captivating Wicked Investigations romantic mystery series. If you like heartwarming chemistry, complex characters, and page-turning tension, then you'll adore Sandra S. Kerns' suspenseful novel.
Click your preferred link below to buy Suspect: Family and discover love's hidden clues today!
Amazon US: http://bit.ly/InvestInWicked
Smashwords: http://bit.ly/WickedSmashed
iTunes: http://bit.ly/WickedTuned
Barnes & Noble: http://bit.ly/WickedBandN
 All of Sandra's books are available at your favorite online retailers.
Please visit the Books page for all published novels and information of future releases.
Sandra S. Kerns, LLC                                                                                                                                                  Privacy Policy