Hi everyone! Happy New Year!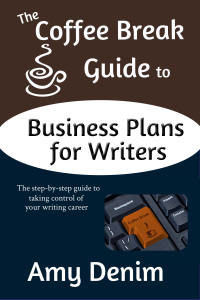 I'm gearing up for an exciting, busy, energizing, focused, prosperous, and enjoyable new year, what about you?
Do you have lots of resolutions? If not, lots of plans both business or personal? Have you figured out how to make the most of your time, talent, and money? OR, are you still wringing your hands hoping next year will be smoother seas?
I hate to burst your bubble, but it isn't likely. Life happens. It isn't always easy or pretty. It usually smells like a gym  rather than a rose garden. However, there are ways to make it less stress-filled and more joy-filled.
Take my first blog guest for the year, Amy Denim. Amy is the author of the Coffee Break Series of books to help writers with the 'business' side of writing. That is, the part of writing most of us creative types resist – promotion, scheduling, deadlines, goals. She does it in a very comfortable, laid-back style that is easy to read and almost easier to understand. I say almost because I still struggle with putting myself into the business cage, but I'll admit, Amy makes it easier.
I'm about halfway through "The Coffee Break Guide to Business Plans for Writers," and have already filled out some of the forms she lets you download for free! Her conversational style makes you feel like she is sitting right beside you guiding you each step of the way. How comforting is that? It's like having your own personal business planner only better.
Why better, you ask? Because instead of someone doing it for you, you LEARN, really learn how to do it yourself. I don't know about you, but I always feel such a sense of accomplishment when I learn something new. Add to that, the fact that this is about making my business (yes, according to Amy, I AM a business) successful. Who could ask for more than that?
So, folks, click on the book cover to the left. That will take you to Amazon where you can buy Amy's new book for just 99 cents. Yep, you read that right. 99 cents through tomorrow. I guess she wants everyone to have an opportunity to set up their business plan before the year gets too busy and at a super fantastic price!
Then, after you've bought the book, start reading it. As I said, I'm already about halfway through it (and no, I bought it – I didn't ask her for one because she would be doing my blog). While you're reading it, jot down any questions you might have because Amy will be here on Thursday, January 2nd to answer all of your questions. If you don't buy the book before her 'blog appearance,' that's fine, her post will give you more inspiration to set up a business plan and then you will want to buy it.
Stop back by on January 2nd for Amy's post – Five Reasons YOU Need an Author Business Plan. She will  give a copy of the book in the winner's choice of Kindle or paperback, too. There's another reason to stop by!
Now, sorry, but I have to get back to reading the book so I can ask more questions.
Happy reading!
.