I apologize. It's been a crazy week working on edits to get the next book ready for release next week. I let Sock look it over too and let me tell you, he's pretty critical. Anyway, I also had to convince him no one would laugh at him for his holiday pictures. We all over eat and wear strange attire during the holidays. He finally relented and here you go – Sock Munkee's Thanksgiving and Christmas photos.
We'll start with Thanksgiving dinner. As you'll see he really liked the bubbly we served. He wasn't too shy about asking for seconds (and thirds) on dessert, either. Then he went back to his house and relaxed in front of the television for a while.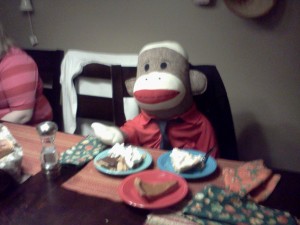 After he recovered from Thanksgiving he felt the need to spread some Christmas cheer. So, he dressed up like an elf and walked around the neighborhood making kids smile. Who wouldn't smile looking at this guy?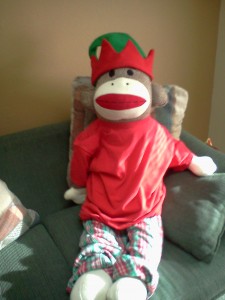 Unfortunately, that was the end of his visit with us in Colorado. He missed his girls so much, he jumped in the box their Grandma was packing their presents in and got shipped back to NY.
He didn't totally abandon Joy and Pete, though. While in Colorado he took a young Sock Munkee under his wing. The poor little fella didn't have anything. No home, or food, or clothes; not even a name! So, Sock Munkee adopted him for Joy and Pete. Now known as Sock Munkee Jr. or SMJ for short, he lives a happy life in Colorado. He's very friendly and has jumped right into family life. He supports Joy's favorite team from NY, Syracuse.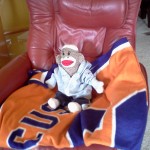 He really got into the game. I didn't even mind giving up my favorite chair for the little guy to enjoy.
So, the rest of the adventures will be with SMJ. If we get any family pics from back east we will definitely post them to keep you updated on Sock's busy life.
I did promise you a picture from one of my readers. This was sent to me by Toni. Her family seems to be almost as addicted to Sock Monkeys as mine. Presenting…Mommy Monkey toes and Baby Monkey toes. 
So, do YOU have any favorite Sock Monkey (or Sock Munkee) pictures to share? I know everyone would love to see them. Until our next visit with SMJ, take care and don't get too carried away with your Munkee business!