The Butterfly Connection
Yes, November 12th is the official release day for the next book in the Colorado Skies Series.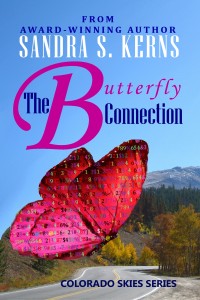 The Butterfly Connection is primed and ready to flutter into your heart and mind. The twists and turns promise to make for an interesting ride.
In conjunction with the release, we will be running a challenge to break the code you see on the butterfly's wings. The prize will be an autographed copy of the paperback of the book to the first person to crack the code. Don't be disappointed if you aren't the first. There will be other prizes throughout the first two weeks of sales. Be warned, it isn't just some random thing like my name. You will need to read the book to figure out the information in the code. I will post clues throughout the first week of the release. Check the blog daily for new clues.
Happy deciphering!