Harlan's Haven
A portion of all sales will be donated to Hope for the Warriors. Please join me in thanking and supporting our armed forces personnel.
Harlan Granger is facing a fate worse than death. He's been discharged from the Army thanks to a piece of shrapnel near his spine. He was born to be a soldier and hasn't a clue what to do as a civilian. Hopefully, he can keep himself occupied with work on his parents' house until the worst happens. All too soon, he realizes the peace and quiet he so desperately needs to heal and think isn't to be found in his hometown. Trouble has found it's way to Bluff's Corner, and it's centered around his brother's business. His brother's pixie-like neighbor has Harlan's trouble radar going off the charts. It's not just his attraction to her that has him second-guessing himself, he's sure she's hiding secrets of her own, secrets that could be dangerous both to her and his brother.
Rilie Lazar is finally beginning to enjoy life. The people in Bluff's Corner, Colorado are friendly but not nosey. Her quilting business is going well and her best friend is the funniest guy she's ever known. At least, he was until the night his brother walked into the bar. He might be the best looking Alpha male she's ever met, but he's putting a definite damper on the atmosphere. Worse, he's bringing back memories she would rather keep buried. Memories that have her looking over her shoulder and being on guard all the time. She thought she left all that behind, but what if he's right? What if her past has followed her to Colorado? Can she keep her friend and his brother out of harm's way or will they pay the ultimate price to keep her safe?
Currently Available:
               
                 
7th book in the Colorado Skies Series
Butterfly Bride
The continuation of The Butterfly Connection is now available, just in time for Christmas!

  Butterfly Bride is the follow-up that several readers have asked for so they can visit Artemis and Emma again.
Two years have past since Artemis told Emma he would call and she said she would answer. Artemis has finally worked up the courage to ask Emma to   marry him, but even if she says yes, will it ever happen? Someone is sabotaging their friend's bar and trying to ruin Clandestine Investigations where Emma now works. Will they ever make it to the alter or will one of them pay the ultimate price to save the other?
Buy it now:
5th book in the Colorado Skies Series
Eenie, Meanie, Minie, No!
Nikki Sterces is a high school English teacher with a past. That past returns with a vengeance reeking havoc on her quiet life. Threatening phone calls are only the beginning. Shortly after one of those calls, her high school sweetheart, now Detective Joseph Fitzpatrick, knocks on her door and informs her they believe her uncle has been murdered. Can this be the answer to her prayers? Will her fears all disappear with the death of her lecherous uncle? It doesn't take long to realize the answer to that question is no.
Joe Fitzpatrick's adopted son fears losing his father and being alone. This motivates Joe to return to Pinecrest, Colorado where the crime rate isn't half what it was in Chicago. At least, it wasn't when he grew up there. Now, he's investigating a murder that brings him face to face with the love of his life. The woman who stole his heart and disappeared. He remembers her as an innocent, but she's changed since he knew her in high school. Could she really have killed her uncle? Worse than that, could she be killing the other members of her high school clique? No one can change that much, can they?
Currently Available:                          
4th book in the Colorado Skies Series

 

The Butterfly Connection
Emma Simms is running for her life and she doesn't even know why. Ever since a cryptic email from her step-brother Eric her quiet life has been thrown into chaos. She goes to their cabin in Upstate New York to find him near death. He sends her on a cross-country trip to Colorado to find Artemis Jones and a mysterious flash drive that will explain everything. While on the road to Colorado, she discovers Eric died and not only do the authorities consider her a "person of interest", her parents believe she is responsible for her step-brother's death. In order to get her life back she must find Artemis Jones and hope he has the answers that will end this nightmare.
Artemis Jones has turned his back on civilization since the death of his wife, two years ago. He has kept in touch with one person from his former life, Eric Barron. On his way to their monthly meeting, he stops to help a woman along the road. An action he regrets immediately. When he learns she's the step-sister of his partner the regret grows. If anyone knows his need to keep his distance, it's his partner. So why did he send his sister to him for help?
Will Emma be able to trust this reclusive stranger to help her? Will Artemis, a loner because of past personal problems find it possible to trust Emma? Can the two of them work together to find Eric's killer?
Currently Available:                       
3rd book in the Colorado Skies Series

The third book in the Colorado Dreams series, Romance and Suspense truly do collide when another Pinecrest, Colorado detective comes face to face with his past. Connor from Dream Stalker lends a hand with some research and moral support. Still, it's a bumpy ride through Pinecrest and the foothills as Sam tries to make peace with the pain our heroine caused him.
~~~~~
Pinecrest, Colorado Detective Sam Callaghan doesn't know it, but he's walking into the weekend from hell. The sniper he stops while running an errand turns out to be the upside of the long Memorial weekend he faces. His past and present collide in a gut-wrenching crash when the only person injured by the sniper, turns out to be the last person he ever expected to see again. Even worse is the battle raging inside him; having despised her for so long, how can he still want her?
Nine years after Pinecrest's princess on the hill, Katrina Stokes left without a trace; she's back. Unable to deny a request from her estranged mother, she takes a chance to meet with her and explain why she disappeared. But the reunion is not to be. Instead, a sniper's bullet finds Rina as she dives to rescue a child. Seeing Sam take out the sniper, Rina knows she has to disappear again before he or anyone else recognizes her. His life and that of their son depend on it.
2nd book in the Colorado Skies Series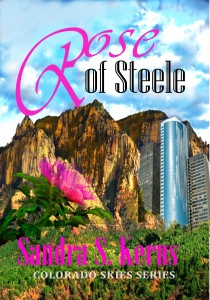 Rose of Steele starts across the country in Manhattan. Our hero is more accustomed to the steel and glass of New York City than the wide-open spaces of Colorado. Can he handle the quiet serenity of the beautiful Colorado Rocky Mountains or will the fast pace of city life pull him back to New York?
Garrett Steele is an undercover operative for Clandestine Operations. His assignment is to root out the discrepancies at Blackthorn Ltd. He's just finishing his assignment when everything falls apart. He barely escapes with his life and since it appears his cover is blown he is forced to take a vacation. Vacation isn't a word in Garrett's dictionary. His complicated past has made him focus on work and forget about relationships or life outside of work. With few friends and no idea of what to do with the forced time off, he gets in touch with his only real friend and co-worker and sets off to Colorado.
Unknown to Garrett he is about to run into the one person he would rather not see. Carly Rose. Carly Rose is the little sister of his best friend William and one of the reasons Garrett has never been able to commit to a relationship.  Carly Rose has grown up since she last saw Garrett at seventeen. She's no longer a teenager with a crush on her brother's college roommate; she's the owner of the Wild Rose bar.  When the two meet once again old sparks are ready to flame but a number of "accidents" involving both Garrett's last assignment and Carly's bar being threatened may douse them before they get a chance to ignite. It's a race against time that takes Garrett from New York to Colorado and back again in an effort to save his job and Carly's life.
The first book in the Colorado Skies Series is Dream Stalker
J
anine Chase, a reporter for a small newspaper in Northern Colorado, wakes up terrified. The killer who stalked her dreams when she lived in Philadelphia is back. He killed everyone close to her, almost. He didn't kill the man she loved, but he did kill the relationship. Her obsession with helping the police catch the killer nearly killed her as well. When sh
e recovered, she moved halfway across the country in hopes of leaving it all behind.
Philadelphia Detective Connor Dawson is dedicat
ed to bringing in his brother's murderer. The problem is the trail went cold after he arranged a fake obituary for the reporter, Connor's ex-lover. The killer had been obsessed with her, and she with him. Connor knew the only way to keep her safe was to make the killer think she was dead. It worked for two years. But recently similar murders have popped up on his radar. The trail leads directly to where Janine relocated when she recovered from the killer's attack. Not a believer in coincidence, Connor fears the killer has found her again. As hard as it will be to see the woman responsible for his brother's death, he knows it would be worse to know she was dead and he could have stopped it.
Currently Available: