The Masters Men started a new company –
Master Security.
Have you been waiting for those hunky brothers to return? Well, your wait is over. They've all decided to go all in at Ace's security business, Master Security. The business has grown into more than just designing systems. Now, they test, design, and install systems for anyone. The job can be a major company or someone's home.
First – let's look at the newest release.
Lifestyles of the rich and famous?  (Book 5)

Two broken souls.
One woman's quest.
Will a chance meeting expose love's truth?
Bess struggles with her identity after the death of her parents. Going against her late mother's warning to stay away from unknown relatives, she's driven to find out the truth behind her mysterious past. But just as she absorbs a shocking clue, she sees a handsome man eyeing her with a surprised expression…
Ryder struggles with guilt every day. As if losing a leg in Afghanistan wasn't punishment enough, he hates that he was away when his parents died, leaving his brother to cope alone. To numb his pain he leads an isolated civilian life, so he's unprepared when a quirky waitress stirs his heart…
As Bess's search for answers makes their paths converge, neither can ignore their growing attraction and their painful histories. Are Bess and Ryder trapped in their traumas, or can they finally let go of their baggage to find true love?
The Unsuspecting Heiress is a powerful romantic suspense. If you like irresistible chemistry, intriguing plots, and wounded souls finding a way, then you'll love Sandra S. Kerns' heart-wrenching novel.
Buy The Unsuspecting Heiress to take a journey of healing hearts today!
Security teams for special events.  (Book 1)
A rancher in trouble.
A vexing trespasser.
A frustrated security man.
Marley Jasper can't deny trouble is knocking on her door when she has to shoot at an intruder. She needs to make her guest ranch secure before the season's kick-off barbecue. When she walks in the Master Security office, the last person she expects to see behind the desk is the baseball player she had a crush on in high school.
When a gorgeous woman walks through the office door, Chance Dugan thinks his luck for the day has changed. Then she introduces herself and he realizes his mistake. The daughter of a rancher is definitely too good to be seen with the dairy farmer's son. Too bad she looks even better than she did in high school. When she tells him she shot at an intruder, the past is pushed aside by his protective instincts. The problem is those instincts don't work to protect him.
If you like strong heroines, determined heroes, and a little suspense added to the mix, you'll love Securing the Rancher's Heart.
Order today and be a part of the season's opening barbecue!
The Security Office is hiring! (Book 2)
A woman in danger.
A psychotic intruder.
A reluctant protector.
Burke Goffe survived the war, but at what cost? Dealing with changes back home didn't go well. Landing a job with Master Security as a system designer, allows him to distance himself from people so he can't screw up again. Then his boss asks for a personal favor he can't turn down and his self-contained life explodes.
As a teen, Stella Printz beat cancer and never looked back. Fourteen years later, she's living her fantasy in Colorado where she opens a dinner/dance club. She never imagined her dream would turn into a nightmare. When her business is vandalized, she turns to Master Security for help. One problem. The man assigned the task is antisocial to the nth degree. But Stella's faced worse than him and kept smiling. She'll bring him out of his shell if it kills her.
Unfortunately, it's the killing her part that has Burke worried. Can he keep her safe? Can he survive her endless cheerfulness? Or will they both become victims of a psycho's game?
If you like spunky heroines and hunky but brooding heroes, A Risky Assignment is the book for you. Buy it now and get ready for a chilling twirl on the dance floor.
Need to Mellow out?  (Book 3)
A Dangerous Decision
A Romantic Dilemma
An Explosive Experience
Josiah Poe faces an unprecedented business failure. Mysterious problems threaten the Colorado fishing cabins he bought to rent out. Hiring a security firm seems like a good plan until he meets Brynn Maddox. She's upbeat, feisty, blunt, and beautiful, all making it hard to stick to his no relationships line. A line she keeps crossing. He may help others, but he doesn't need any. He's definitely not stupid enough to try his hand at love again. Then Brynn's safety is threatened and he needs to protect her and his heart.
Brynn doesn't need Poe to protect her. She's capable to take care of herself and then some. Poe, on the other hand, needs help with more than security. There aren't enough good men in the world that she can stand by and let one close himself off from love. Breaking through the emotional barriers he's built is hard, but she's up to the challenge. However, the threats he receives could be more than she can defy.
As sparks fly between the two, more trouble finds its way to Mellowbend. Will sparks be enough to unite them or will Poe fall back on past behavior and push her away?
Mischief at Mellowbend is the third book in the romantic suspense Master Security series by Sandra S. Kerns. If you like damaged but determined heroes and feisty, sure-footed heroines, you're sure to love Mischief at Mellowbend.
Security gets hot! (Book 4)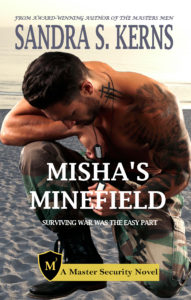 He swore to defend.
She swore to serve.
Can they find a new oath together?
Captain Misha Martin hopes he left his demons behind in Afghanistan. Adjusting to normal life is a struggle in Cocoa Beach as his military instincts and his civilian life don't seem to mix. But when a childhood friend throws her arms around him, he's not sure if he can let her… or anybody back into his life…
Jasmine Beckett was always drawn to Misha as a friend, but she's starting to sense something more. After all, he's one of the few people who can understand the tragedies she witnesses during her long EMT shifts. If only she can break down the barriers he's put up around himself…
When Misha's new security work collides with Jasmine's calling, they'll both need to face each other's insecurities. To let down his defenses, Misha may have to finally let go of a haunting past to embrace a simmering future…
Misha's Minefield is the standalone fourth book in the Master Security series, a set of romantic suspense novels. If you like emotional page-turners, brooding heroes, and strong-willed heroines, then you'll love Sandra S. Kerns' suspensefully sweet tale.