Sea Breeze Review by Sandra S. Kerns
First, let me introduce you to author Jennifer Senhaji in her own words.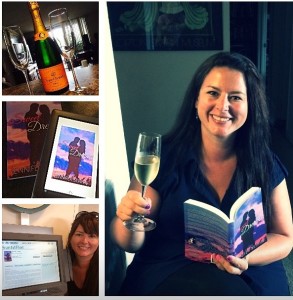 I was born and raised in San Francisco, CA, and have a husband and two children. Music is an addiction. I can often be found in the car, singing along at the top of my lungs to whatever is playing. I work full time, and I split my spare time between family, reading, blogging, and writing. I'm a habitual quoter. Lines from films and TV shows constantly pop into my head—my kids are the only ones that really get it. I'm an only child, and so of course I married a man who is one of ten children. Other than English, I speak Spanish, Moroccan, and a little French. I love to travel, but don't do enough of it. Reading has been a passion for most of my life and I now love writing. I'm a klutz, and in my own mind, I'm hilarious.
Want a fast, fun, exciting read? Check out Jennifer Senhaji's Sea Breeze available now on Amazon just click the book cover to buy it.
I read this book through in one sitting because I was enjoying myself so much. To me this is a story of metamorphosis. Jordan has lived her entire life responsibly because there was no other choice she could see. When an unexpected chance to spread her wings drops in her lap after an emotional life event, she grabs hold and never looks back. Well, maybe once or twice, but she never turns back. She has decided to try new things and a cruise ship is just the place for that. (Have you seen the activities on the ships nowadays?) Anyway, the one thing she isn't looking for is one of the first she finds, a HOT man. Not only hot, but fun and sweet without being syrupy. Their journey through the Caribbean was so much fun because the author made you feel like you were right there. You could feel the humidity and the ocean breezes. There is romance, a cruise, you visit Puerto Rico, and watch the characters' voyage through self-discovery. A great read from every perspective.
That's my take, actually there's so much more but I don't want to spoil the fun for you. I do have permission to give you a little excerpt to whet your appetite, but before that here's a little more insight into the story. Be sure to read all the way through the post. At the end there's a special prize!
ABOUT SEA BREEZE:
Jordan has never been in love, or been anywhere. Trapped in Vegas, she schleps drinks and dodges losers, while suffering under a burden only she can shoulder. Her life is an endless stretch of blah with no escape.
Until now.
Instead of looking back, she's sailing forward.
Eric has left his family and friends in San Francisco to travel the world, tending bar on a cruise ship to fund his adventures. He can charm any coed who comes aboard, but Jordan sees right through him.
On the blue cobblestone streets of San Juan, everything changes. Food. Music. Exotic locations. Possibilities. Setting out to discover the world, will Jordan discover herself?
Sometimes, adventure can set you free…
The ship is still in port, so the wind is minimal as I scoot out of my shorts and step into the pool. The water is warm and I dive to the bottom. Back at the surface, I float on my back and gaze up at the blue sky and white puffy clouds above me. My arms fan out around me and I sigh, content. No worries, no responsibilities. No rushing home. My time is finally mine now. Guilt tightens my chest and a tear forms in the corner of my eye. I dive back under the water to wash it away. I couldn't stop it, no matter how hard I tried. Nothing I did was ever enough.
I swim around for a while, trying to clear my head, and stretching my leg muscles. After all the walking today, I'm bound to be sore tomorrow. After about thirty minutes, I step out of the pool and sink into the hot tub. I rest my head on the ledge and my eyes close on their own.
A while later, an older couple joins me in the steamy water. I smile at them in turn and lean back, taking in the evening sky. Hints of a beautiful sunset are on the horizon. I've been soaking for a while now, and my fingertips are all pruned. I smile again at the couple as they exchange a quick kiss, and take my leave. Drying off, I slip back into my shorts. I can't help flashing back to the moment I shared with Eric. I really wanted him to kiss me, but it's probably for the best that he didn't.
Back in my room, I find Kim lounging on her bed, flipping through a magazine.
"Hey, where have you been all day?"
I take a seat on my bed opposite hers. "I went ashore and spent the day in San Juan. It was amazing. What did you do? Did you go ashore?"
"No. I nursed a horrible hangover until about two in the afternoon. By then, it was too late to consider going. I ended up meeting a couple of my friends for Bloody Marys by the pool, and then we went to dinner."
"Did you have fun last night?"
"We had a blast. You have to come out tonight, Jordan."
"What's on the agenda tonight?"
"We're all going to meet up at Allure around ten. It's the nightclub here on the ship. Are you in?"
Allure… That's where Eric works tonight. He said he'd buy me a drink.  "Yeah. I'm in."
I hope you enjoyed this excerpt from Sea Breeze. If you would like to connect more with Jennifer here are links to her social media and a chance to win a cool prize.
AUTHOR LINKS:
Website: www.jennifersenhajiauthor.com
Facebook: https://www.facebook.com/jsenhaji13
Twitter: https://twitter.com/jsenhaji13
Blog: http://jennifersenhaji.blogspot.com
Goodreads: https://www.goodreads.com/jennifersenhaji
Smashwords: https://www.smashwords.com/profile/view/Jsenhaji
Amazon: https://www.amazon.com/author/jennifersenhaji
GIVEAWAY:
Win an eBook copy of Sea Breeze and a $5 Amazon gift card from PageCurl Publishing and Promotion. Leave a blog comment with your idea of a dream vacation to be entered to win. Winner will be announced on PageCurl's Facebook page a week from today!