Welcome to the official website of romantic suspense novelist Sandra S. Kerns. Please take some time to look around and we hope you'll come back to visit often. Check out the blog page and leave a comment on a post or interview. Be sure to sign up for the e-mail list and drop a line with feedback about the site or her novels. We hope you will always feel comfortable asking a question about Sandra or her stories. She will make every endeavor to reply to emails quickly.
Please visit the Books page for all published novels and some information of future releases. Or click the book below to see the thrilling second installment of the Colorado Skies Series.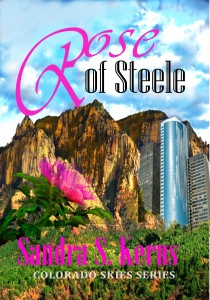 2nd Installment of the Colorado Skies Series               NOW AVAILABLE                 
The second installment of the Colorado Skies Series, Rose of Steele starts across the country in Manhattan. Our hero is more accustomed to the steel and glass of New York City than the wide-open spaces of Colorado. Can he handle the quiet serenity of the beautiful Colorado Rocky Mountains or will the fast pace of city life pull him back to New York?
Garrett Steele is an undercover operative for Clandestine Operations. His assignment is to root out the discrepancies at Blackthorn Ltd. He's just finishing his assignment when everything falls apart. He barely escapes with his life and since it appears his cover is blown he is forced to take a vacation. Vacation isn't a word in Garrett's dictionary. His complicated past has made him focus on work and forget about relationships or life outside of work. With few friends and no idea of what to do with the forced time off, he gets in touch with his only real friend and co-worker and sets off to Colorado.
Unknown to Garrett he is about to run into the one person he would rather not see. Carly Rose. Carly Rose is the little sister of his best friend William and one of the reasons Garrett has never been able to commit to a relationship.  Carly Rose has grown up since she last saw Garrett at seventeen. She's no longer a teenager with a crush on her brother's college roommate; she's the owner of the Wild Rose bar.  When the two meet once again old sparks are ready to flame but a number of "accidents" involving both Garrett's last assignment and Carly's bar being threatened may douse them before they get a chance to ignite. It's a race against time that takes Garrett from New York to Colorado and back again in an effort to save his job and Carly's life.
Amazon Paperback Version Buy It      Amazon Kindle Version Buy It     Nook Version Buy It      CreateSpace Paperback Version Buy It Now
Sandra S. Kerns, LLC