Christmas Tree Viewing with New and Old Friends.
Welcome back everybody! I think this will be the last time for a Christmas tree post. Well, unless I see one that I just can't resist showing you. If that happens I'll sneak it into a post somewhere. Teehee. Hmmm, that reminds me. I haven't posted Sandra's decorated Christmas tree yet. Look for it in a future post.
Let's start t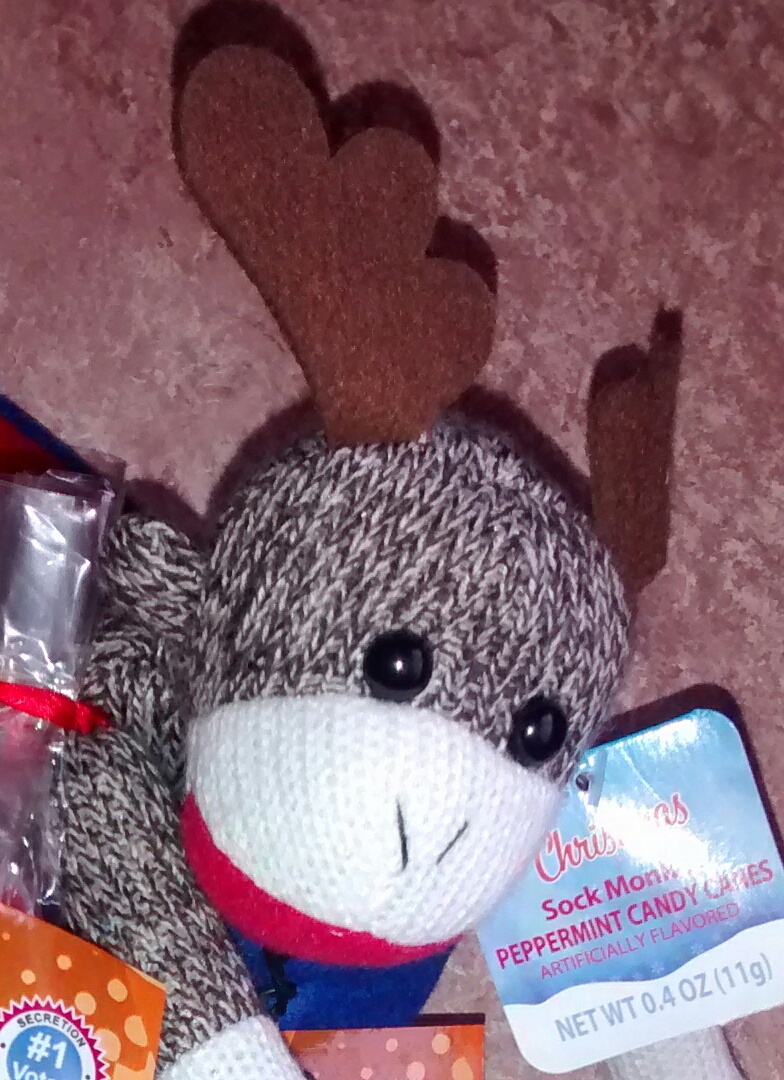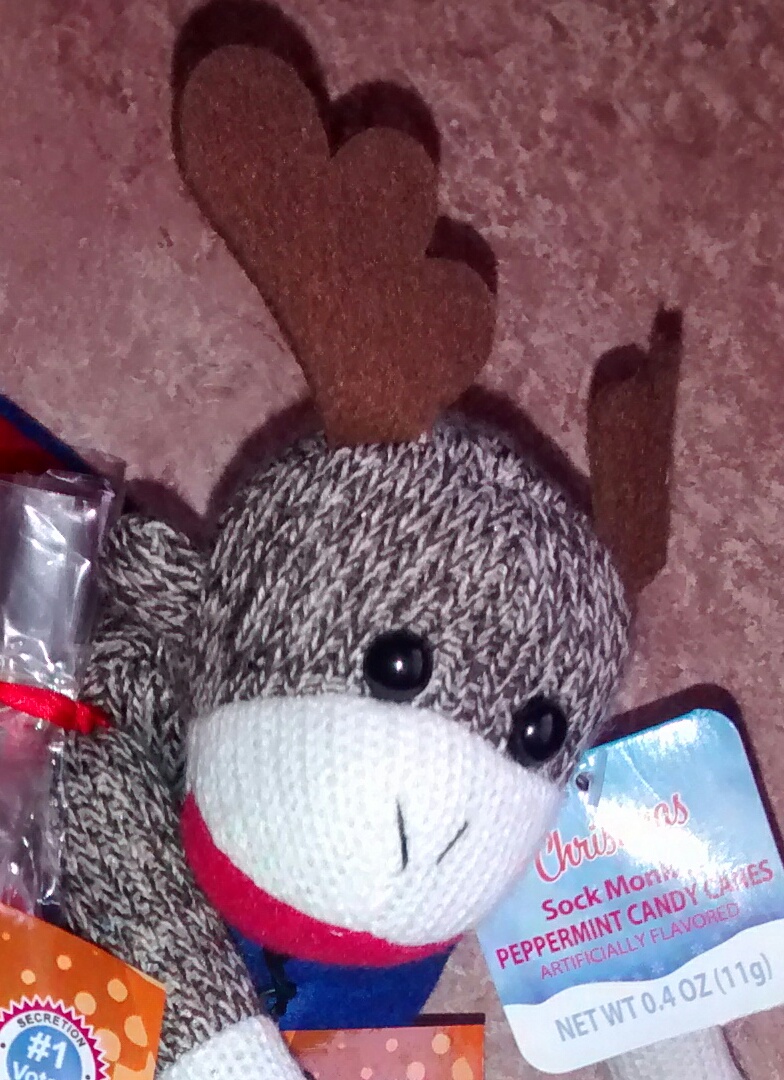 his adventure through Christmas trees with an introduction to a new Sock Monkey, Reindeer Sock. I can't remember ever seeing a monkey with antlers before, but I try not to judge by looks. Besides, he is pretty cute. He's also generous. See the sticker on the floor next to him? It says Sock Monkey Peppermint Candy Canes. Really, they were labeled as HIS candy canes, so there was no doubt who they belonged to. However, he shared them with anyone who came by him. What a guy! I LOVE candy canes. If we hang them on the tree at my house they don't last long because I keep climbing up the tree and eating them. I know, it's naughty, but I just like them so much! Mom just shakes her head and reminds me I still have to eat dinner. Anyway, back to Reindeer Sock. I really wanted to bring him home with us, but mom said no. I didn't gripe or whine, though. It is only a couple weeks until Christmas. I don't want anymore naughty marks on Santa's Naughty or Nice list. I did glance up at her soon after we walked away from him and she had this silly little smile on her face. That usually means she has a surprise planned. I wonder if she already arranged for Reindeer Sock to live with us after Christmas. I hope so. If not us, I hope someone gives him a great home because he's such a sweet kid.
The next friend I wanted to introduce you to is hidden inside this shiny tree. Can you see him? Look right in the middle and you'll see two little eyes and a pink nose. That's Pooh, Casey's kittie. When I saw this picture I imagined I was in a safari with lions and tigers hiding everywhere. Then I remembered there aren't any white, frilly, trees in the jungle and they definitely wouldn't have pink and blue lights on them. Whatever Pooh was thinking, he looked a little silly with all the white branches and sparkling lights around his little face. He's usually not this daring. On the other hand, his brother Tigger? He's another story.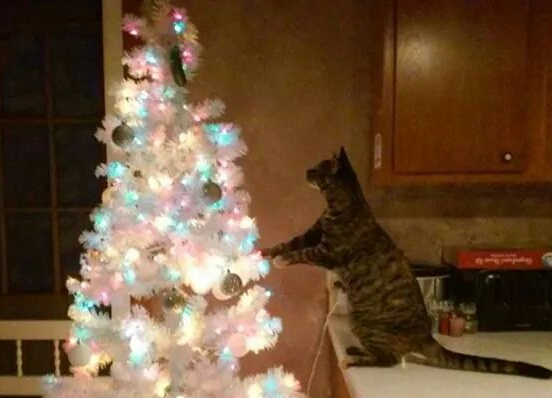 You met Tigger before. He was in the black and white picture I had in a previous post. His eyes were glowing just like the tree lights in that picture. Here I think he's trying to help decorate. Granted, it's more likely he was trying to knock it over or grab something off of it to play with. Tigger is one of those kitties who looks for trouble. He really doesn't have to look hard. It usually finds him.
I shouldn't pick on him too much. He's a Cool Cat. Like how I did that, made him sound like he's the Cat's Meow. Oh, someone stop me!
"Thanks, Tigger." He gave me a little swat with his paw (no claws, he wouldn't do that) to snap me out of silly line phase I'd fallen into. See, I can always count on Tigger to help out.
Next up in the Christmas tree tour today is Casey's tree. This one is reminiscent of Charlie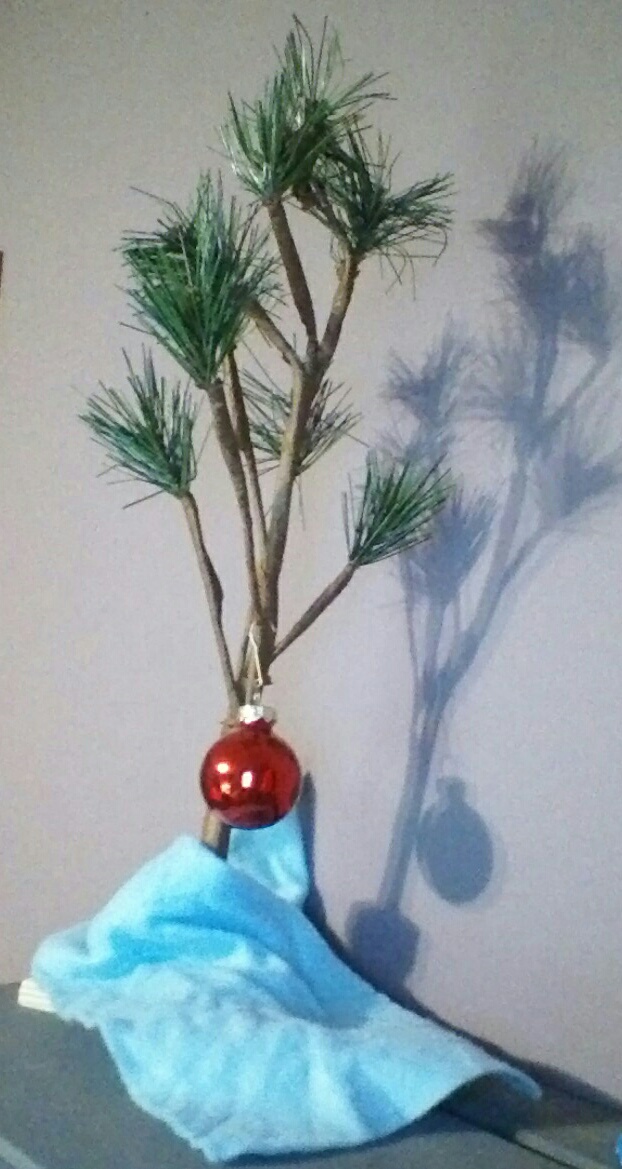 Brown's tree in A Charlie Brown Christmas. The show came out in 1965 and it's still a favorite of people everywhere. Just so those of you living out here in Colorado's time zone don't miss it, here's a link to all the best Christmas movies and where/when to watch them. I don't think A Charlie Brown Christmas will be on again until Christmas Eve. Although, you can see his tree right here. Or, Casey's version of his tree. She puts it up every year. I think she feels sorry for all the passed over trees left in Christmas Tree lots. This is her way of telling them someone loves them no matter how many needles they've lost. Isn't that what Christmas is all about, showing love to the world? That's what I believe.
What do you think is the true meaning of Christmas. I'd love to hear it. Leave a comment and I promise I'll read it and comment back. Connecting, that's another great part of Christmas!
More later!
SMJ