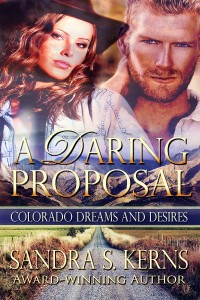 Release day is just around the corner. Okay, two days down the road, September 3rd.
You can be ahead of the game by pre-ordering A Daring Proposal today. That way it will pop up on your e-reader first thing on Tuesday and you can find the answers to the questions posed in the book trailer.
What? You haven't seen the trailer? Well click on the book cover and see what you are missing. Views from Colorado will fill your screen as well as the questions you'll want answered in the book. After you check that out, you can come back here and click one of the links below to pre-order your copy of A Daring Proposal now.
Thanks to all my readers. I hope you enjoy the ride down a difficult road with Jed and Chaney.