Hi everyone!
I know, it has been a long time since any of us from the Munkee family have visited Sandra's blog. She's been busy writing and speaking and going to conventions, yada, yada. You know the drill, but I finally talked her into a vacation and figured it was a good time to visit with you. Oh, she's still writing and promoting. She does take a few minutes here and there to play, so I'm taking advantage.
We started our vacation in Key Largo. We'd planned to do some scuba diving at Molasses Reef, but the seas were too high both days we were there so they weren't going out. Scuba is still a possibility in a couple of days in Fort Pierce
, but we'll see about that later. Anyway, instead of diving we went to the pool at the hotel (that's me on my lounge chair working on my tan).  After the pool, we got cleaned up and went to Snook's. They have the Hawaiian tradition of sounding a horn at sunset that's really cool. Click the pick to check out their new website.
Anyw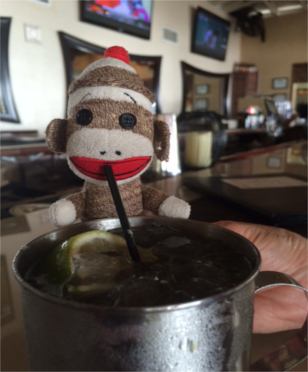 ay, we went to the bar for happy hour (okay, I started early at the pool with my spiked punch) and tried a new drink called the Moscow Mule. It's made with ginger beer, vodka, and lime juice, served in a metal mug. The bartender said that is an important part because it tastes better in the metal because of the ginger. I don't know if that's true, but it sure tasted good to me!