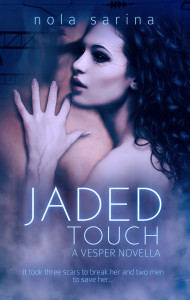 Here's the cover for the upcoming release of Jaded Touch – A Vesper Novella by Nola Sarina
Three is tormented by the branding scars on her back, broken memories of her fallen creator, and the looming consequences of her secret friendship with Sychar – a male of her kind – a high crime in her world of serpentine guardians.

Then along comes Jack – the human train engineer she saves in an explosion. His touch weakens both her knees and her sense of duty. Now Three must choose between her immortal duties, her forbidden friendship, and her human lover.

With every choice comes a cost, but not every cost is hers to pay…
Also, please stalk the author on Twitter @NolaSarina and follow her on Facebook at 
http://www.facebook.com/AuthorNolaSarina
 to hear all about the launch week Giveaway basket with some kick-ass autographed prizes for all Vesper readers!