Welcome to the Colorado Dreams and Desires series.
In this series the books will all stand on their own, so you don't have to read them in any special order. They are tied together by the fact that the characters's dreams and deepest desires can only be fulfilled in Colorado. I hope you will enjoy all the books in the series. The newest book takes you on a hunt for a secret treasure and the identity of a murder. Roman Smirnosky reconstructs historical Colorado homes and Kaia Beecher was a criminal defense attorney before leaving that life to find her real passion.
Reconstructing Roman
Peace is a gift you sometimes have to walk through fire to receive.
Roman Smirnosky wants nothing more than to work and be left alone. After years of being on his own and building a business, he thinks he's finally found peace. All that changes with a single phone call informing him his brother is in the hospital and his parents are dead, murdered. Returning to the town he left behind sixteen years ago, he soon realizes, helping his brother is the easy part of returning. Someone has moved into the old Beecher place. A female someone. He figures if nothing else, offering to help with repairs on the Beecher house while he attends to his brother's farm during his recovery will provide a welcome distraction from the nightmarish memories that haunt him since his return home. He quickly realizes he couldn't be more wrong when accidents and threatening phone calls start to plague the young woman. He's definitely no hero, but walking away from a fight isn't his way either. It doesn't hurt that her determination and strength tempt him to distraction and his quiet, solitary life is about to be thrown into chaos.
Kaia Beecher's inheritance is a mixed blessing. It means the parents she adored are gone and she's heartbroken. However, it also gives her the opportunity to change the direction of her life. After breaking off her engagement and losing a job her heart wasn't really into, she decides to return to the one place she can where she has happy memories, her grandparents' farm in Colorado. The farm couldn't be more different from the high-pressure life of her criminal defense career in New York. Packing the few things she wants to keep and her dog Copernicus, she heads west in search of peace.
What she finds instead is fear, distrust, and threats. Even the handsome man offering to help her repair the farmhouse tells her she should leave. If people hate her family so much, why didn't her father sell the farm? Why is everyone determined to run her off her property?  She's determined to find out why someone wants her gone and she won't leave until she has the answers. She's also determined to break down the walls Roman has built around his heart and help him stop living in the past. She only hopes that her inquisitive nature along with pure stubbornness will help her find the answers. How can she give love a chance when the caller threatens Roman's life if she doesn't do what he wants?
AMAZON UK:  http://amzn.to/1H6nBYf
Continue reading for an EXCERPT
The Beecher place looked the same when he'd driven by on his way to the Bury Patch this morning as it had every other time since he'd returned to Beechbrook. Deserted. Abandoned. Lonely.
Now, standing in the cemetery with his brother under an umbrella, Roman half listened to the preacher, and looked toward the old farmhouse with a different perspective. The perspective of–
"We can take comfort in the fact that Sarah Smirnosky is at peace now."
Roman's eyebrow rose. Peace? He tried to imagine his mother being at peace with having her throat slit. Or with the fear that whoever killed her would soon kill her beloved bastard of a husband. The thought pulled his gaze to the far side of the cemetery. That's where he'd buried their father earlier before picking Adam up for their mother's funeral. He'd known Adam didn't want anything to do with their father's burial. He'd gone as far as saying he didn't care if they threw Silas in a dumpster. While Roman agreed with the idea, he knew the authorities would never allow it so he'd arranged to take care of the burial himself.
Just thinking about the bastard sent his blood pressure skyrocketing. Roman admitted to himself that there were people he didn't care for. Some that he disliked, detested, and even some he abhorred. There was only one for whom he reserved the strongest emotion he new, hate. That would be for the man who had taught him how to hate, Silas Smirnosky, his father. When the umbrella started to shake with his building anger, Roman forced his attention back to the grave he stood beside now.
His mother's.
Staring at the small coffin, he tried to summon the grief he should feel. Pity was as close as he could come. His gaze strayed to the two older graves beyond hers. The Beecher's, now there were two people he had grieved over. That pulled his gaze back across the plains to their property again.
When they'd driven to the cemetery for this funeral, he'd seen Kaia Beecher's SUV and a trailer in the driveway. There'd also been a dull light in the window. The house looked much happier with the light on. He remembered the house always filled with love and laughter, like its owners had been. The Beecher's were good people. They didn't deserve . . .
He forced himself not to curse out loud. He couldn't believe he hadn't put it together. The Beecher's had been killed exactly the same way as his parents. The murders may be almost twenty years apart, but otherwise the circumstances were the same.
Movement to his left pulled his attention to his brother. Adam stood with his head bowed. Roman's realization about the similarities between the murders told him what Adam had seen when he found their mother's body. The exact same thing I saw at the Beecher's house.
Wrapping his arm around his brother's shoulders, he hugged him. What else could he do? He might not feel grief himself, but he loved his brother, and Adam was grieving. Adam was the only reason he was here. His brother was hurting. The emotions caused by that were too many and too strong for Roman to name.
"And so we dedicate Sarah Smirnosky to you, Lord. Amen," the preacher said and closed his bible.
"She's not going to like it. It'll be cold and damp," Adam whispered to Roman as the coffin was lowered into the hole.
Roman hugged him tighter.
"I put in that old afghan she liked before they closed the casket. She'll be okay." Okay? She was dead. An afghan wouldn't change that, but the nod and whispered thanks he got from Adam made Roman glad he'd followed through on the silly notion.
They both stepped forward and tossed daisies into the grave. Mom loved daisies. The memory caught him off guard. He hadn't thought about what his mother liked in years. As a rule, he avoided thinking about his parents at all. Doing so only brought him pain. Putting a stop to the self-pity, he watched the preacher step up to them. Once the preacher shook their hands and mumbled the appropriate words of sympathy, he rushed from the cemetery. Roman wondered why he'd pontificated so long if he didn't want to be here. Then again, who did want to be in a cemetery?
The rhetorical question pulled him back to the past. Some of the best times of his childhood had been here in the Bury Patch with his mother. They would come here and sit under the old tree and she would tell him stories about the people buried here. Having lived in Beechbrook all her life, she knew all the families and their histories. He'd loved listening to her tell him about all the hard-working people buried here. Yeah, he enjoyed her stories. They were a welcome respite from the pain of reality. His gaze again found his father's grave.
Pain, that was his father's area of expertise. Shaking off the memories, he returned his focus to the present.
The men he'd paid to take care of the burial started shoveling dirt on top of the casket. Adam raised his hand as if to tell them to stop, but Roman turned him away. He guided his brother down the path toward where he'd parked and helped him climb into the truck. Shutting the door, he walked around to the driver's side, and closed the umbrella before climbing in the cab. Soaked after just a moment in the rain, he slicked his hair back then glanced at Adam.
His brother stared out the window toward the cemetery, his body shivering. Even though he knew that the chill in Adam's body had nothing to do with the temperature, Roman flipped the heater to full. Heat poured out of the vents. Heat wouldn't touch the cold in his brother's bones caused by the fear and undeserved guilt. No, that chill would only end when Roman proved to him that his presence at the house wouldn't have changed the outcome.
Okay, it would have changed it, but only for the worse. If Adam had been at the house that night, he would have died too. Roman shivered with the thought.
Driving toward his family's farm, he drove past the Beecher's again. He couldn't imagine why anyone would want to stay at that house knowing what had transpired there, but he was glad. It was as if the house itself knew that changes were coming. He thought the house looked happy. Dragging his hand over his jaw, he shook his head at the odd thought. It was a building not a living being. Then again, since he restored historical houses for a living, he knew how alive they could feel.
He started to say something about the Beecher farm to Adam, but glancing at him stopped the words before they formed. Houses filled with love were not going to mean anything to his brother right now. Neither one of them knew much about such things anyway.
"I think Miss Hattie brought over some of her potato soup this morning. That'll warm you up," he said, reaching over and squeezing Adam's shoulder.
Adam didn't respond. He continued to stare at the rain outside the passenger window. Roman knew that just as the warmth from the heater hadn't helped thaw Adam, it was going to take more than soup. Death not only chilled the person buried in the coffin, but those left behind as well. It wound through those left behind like a bone-chilling cancer. For Adam it was worse than most.
Not only had he found their mother's body, he'd fought with their father the night before. It was the first and last physical altercation between the two men.
Silas Smirnosky preferred psychological abuse for his wife and youngest son. He had always reserved his fists for Roman, the cause of all his problems. The mistake. The unwanted child. Roman only remembered meeting his grandfather on his mother's side a few times. It had been obvious Silas was afraid of him. So afraid he never hit her. Mom was afraid of both of them and did what she was told. She never questioned anything either one of them said or did and her reward, on occasion, was Silas treating her well for a spell. It was during one of those times she'd conceived Adam. Silas had walked around as if he couldn't be happier. That was when Roman had understood that Adam was planned, he wasn't.
It had hurt at first, but then Roman realized it wasn't Adam's fault. Then, when his brother was born, he was too damned cute. There was no way Roman could blame him for their father's twisted mind. As Adam grew, it was obvious Silas treated them differently. It wasn't that he treated Adam better, though he never hit him, but he was raising him to be obedient. Except that he couldn't break the bond between the brothers, he'd been successful. That was why Roman had felt it was safe to leave. Silas had never raised a hand to their mother or Adam.
Until the night before they died.
Gathering Clouds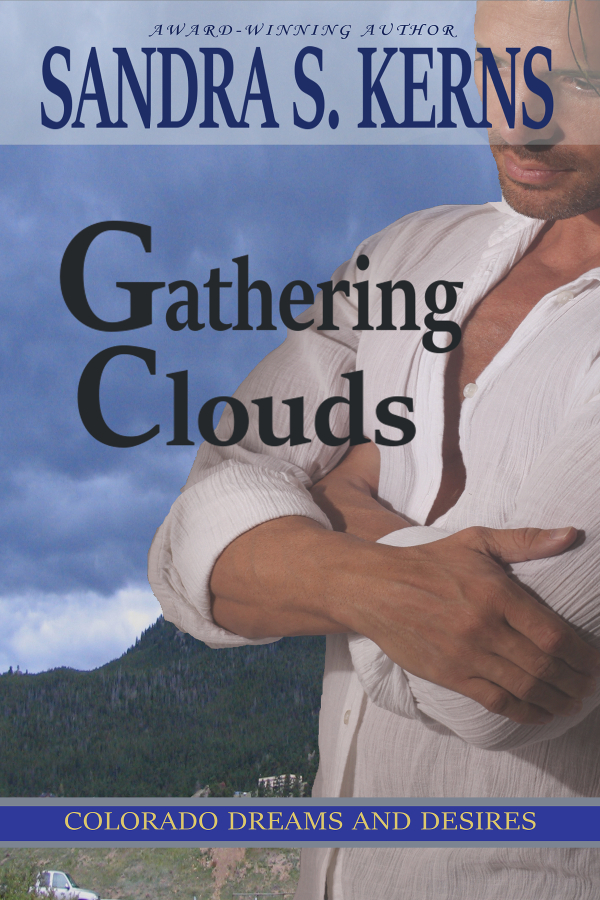 Chef and ex-con Theo DeLeon returns to Colorado to work and be left alone. Fate doesn't cooperate. He's offered a job as head chef at a restaurant, but believes it is more about his having killed a man, than his culinary skills. Gabrielle needs a chef or she'll lose her restaurant. Taking a huge gamble, she offers the job to a disillusioned ex-con. Could her heart be his next victim?
Available at these and other fine retailers
Continue reading for an excerpt.
The smell of stale sweat slapped Gabrielle as she stepped through the door. The mid-day heat of northern Colorado mixed with the sweat caused by the exertion of the gym's patrons made for an interesting aroma. Straightening her shoulders, she remembered her reason for being here and continued walking further into the room rather than backing out the door. No foul smell was going to keep her from her goal.
Besides, she should have expected it. This was not a spandex and neon lights type of gym. Here the patrons didn't care what they looked like while they jumped rope, sparred in a makeshift boxing ring, or took out their frustrations on a punching bag. The people here weren't worried about looking good. Their focus was on training, not trying to impress anyone with their fashion statements. That and punching the daylights out of someone, she thought watching two men spar in the ring. She shook her head, shrugged her shoulders and moved on.
Gabrielle knew she would never understand boxing. Honestly, she didn't care to, but that wasn't why she was here. A friend had recommended someone who was possibly working out here. She had said he possessed the skills she desperately needed.
Knowing she looked out of place in her feminine, but professional attire, Gabrielle didn't take offense at the stares or eye rolls she received. She met each one dead on with a friendly smile before moving on to the next. Not one of them matched the picture a friend had sent her after they had discussed her restaurant troubles. She continued scanning the room as she made her way around the ring.
She spotted him.
On the far side of the room, apparently oblivious to her entrance or the distraction it had caused stood Theo DeLeon pounding his fists into a large hanging bag. His name fit him. Her friend said the other prisoners dubbed him the Lion partly for his disposition and unruly mane of brown hair, but mostly for his strength.
He had killed a man with one punch.
Remembering that, Gabrielle shivered despite the heat caused by the September sun pouring through the second story windows. Watching him pummel the bag she had no doubt it was true. The power behind each punch he threw made the bag swing. She noticed other men working on similar bags didn't have the same effect with their punches. She shivered again.
Okay, enough with being a ninny, go talk to him.
She started walking toward him and tugging the front of her jacket as she thought to herself that Yeti would have been another good nickname for him, the man was enormous. Then again, any man over five ten seemed tall to her, and this man was well over that. He also had plenty of muscle filling out his frame. Figuratively, shaking her head at herself for taking inventory of the man's assets, she stopped several feet away from him. Knowing she was in his peripheral vision, Gabrielle decided not to interrupt, but wait for him to acknowledge her.
He didn't.
In fact, the way he slammed his fists repeatedly into the huge bag in a series of mind-numbing blows, Gabrielle was positive he knew of her presence. She was just as sure he didn't want her to know. The seriousness of her situation wouldn't allow her to back down. When he moved to put his back to her, she sidestepped him so she was once again in his line of sight. His continued dismissive attitude irritated her.
"I need your help."
Without so much as a glance, he moved to another bag.
Undeterred, Gabrielle followed. She watched him attack the new bag, making it swing at an amazing speed. His movements were fluid, not halting and stiff. His gaze never left the bobbing sphere in front of him as his taped fists rolled over and over each other in a hypnotic rhythm that momentarily mesmerized her. After a mental shake to refocus her thoughts, Gabrielle tried to engage him again.
"You can ignore me all day, but I won't leave. I'm desperate and patient. A dangerous combination."
A Daring Proposal
Jed Sampson and Chaney McBride have a troubled past. Fate steps in and throws them together again at her sister's wedding. Chaney needs a husband and Jed needs a wife. Could they be the answer to each other's problems? Can they help each other survive ranch problems, a custody battle and a kidnapping? Can they forget the past or, will secrets they keep hidden from each other keep them apart?
Get yours today at these fine retailers:
 Continue reading for an excerpt.
Three steps down the center aisle, in her painfully pink maid-of-honor gown, Chaney's smile faltered. If not for the bride waiting behind her, she would have turned around and marched out the front doors. No, she wouldn't give the surprise best man the satisfaction. She kept walking. She moved her focus to the groom. The fire burning in her eyes should make her soon-to-be brother-in-law burst into flames any minute.
He knew how she felt about Jed. Her sister did too. How badly Jed had hurt her. Okay, maybe they didn't know how badly he hurt her. No one knew that. However, everyone knew she wanted nothing to do with him.
Besides, didn't she have enough problems with the ranch, their father's death, and Belle's wedding? Chaney reached the front of the church. She turned to watch her sister walk down the aisle, and all her anger melted away.
Belle looked every bit the fairytale bride. The white as high-peak snow antebellum gown and jeweled tiara veil were perfect. The smile on her face brightened as she walked toward the man she loved. An odd mix of joy and jealousy knotted in Chaney's stomach.
She wasn't jealous of Belle. Her sister's happiness meant the world to her. The jealousy came from knowing love wasn't in the cards for her. Shaking off the stupid self-pity, she turned as her sister reached the groom's side. Doing so put Jed in her line of vision again.
How dare he meet her gaze and smile? The knot in her stomach intensified, but Chaney didn't let the pain show. This day belonged to Belle. Turning her gaze back to her sister, she clenched her jaw and prayed for strength while the bridesmaids whispered and giggled behind her. There was no mistaking what man they were whispering about. Women always fawned over Jed.
Even you.
Her hand strangled the bouquet she held with the unwelcome reminder of her and Jed's past. A quick glare over her shoulder silenced the girls. As she turned back, the preacher asked who gave Belle's hand in marriage.
"I do." Chaney's face flushed when the words croaked out of her dry throat. It should be their father giving his favorite daughter away. He hadn't liked Belle's choice of husband. Marrying the son of the man their father had quarreled with as long as she could remember should have been an insult. The only explanation was their father had been too sick to fight about it by the time Steve asked for Belle's hand. They had no doubt waited until after he died to decide on the best man. If Dad had known they were planning to have Jed stand up, there would have been hell to pay. Dad made no bones about his feelings toward the man. He would have forbidden it.
The ridiculous thought had her hiding a grin behind a fake cough. Dad had never said no to Belle. To be honest, Chaney couldn't remember ever saying it to her sister either. Even if she had known about Jed's part in the wedding, she wouldn't have this time. When their mother died soon after Belle's birth, Chaney made Belle's happiness her main goal.
At least you've succeeded at one thing.
The reminder of what a shambles the rest of her life was, made her pull her shoulders back, and stand taller. She didn't know the meaning of the word quit. It didn't matter what absurd challenges her father, Belle, or anyone else threw at her. She'd never backed down from a dare in her life, and she wasn't about to start now. With renewed determination, she met Jed's gaze straight on, daring him to look away first.
# # #
Jed held Chaney's stare across the space between them. Her features remained calm, but her gaze held no warmth. Angry heat, yes. Warmth, no. Not when aimed at him, but every time she looked at Belle, her demeanor softened. When she glanced his way, hard didn't quite define it.
It was obvious she hadn't known he was the best man. The hate heating those caramel eyes was proof. Of course, she'd probably been too busy with her precious ranch to ask about details. He knew exactly how important the ranch was to her. God he hated that place.